Hi!

Please read the T&C before doing any transaction with me.

♥ All prices are in USD and exclusive of s/h
♥ International transactions are welcomed
♥ I accept non-cc paypal (preferred) or concealed cash [USD, SGD, TWD, HKD] thru' snailmail (AYOR)
♥ Payment expected in 2 weeks
♥ For those who are paying later (thru' paypal or snailmail), please confirm the transaction with me by giving me your address. Otherwise, I'm not sure whether to hold the item for you :)
♥ Maximum holding days for paypal buyers is 5 days and 14 days for snailmail payment
♥ Add $2.20 for registered mail
♥ I trade (in similar size with equal no. of sheets) too
♥ I'm not responsible for any lost packages. I take photos of the package as proof of sending as normal airmail doesn't issue receipt unless it is registered mail. Rest assured that I will seal every envelopes securely.
♥ Any enquires, feel free to comment here or email me
♥ Add me as friend for instant update and other privileges
♥ Or link me!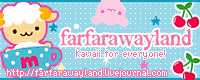 Thank you and I hope to have a pleasant transaction with everyone! :)

yours always,


hui
farfarawayland [at] gmail [dot] com

last updated: 14th March 2008


♥ Link Partners